Doshisha's Integrated Educational System
Doshisha Elementary School was opened in April 2006, some 130 years after Doshisha was originally founded in 1875. This opening finally brought to fruition the dream of an integrated educational system "from kindergarten through to university", a strongly-held ambition of Doshisha's founder Joseph Hardy Neesima.
Under the founding philosophy of "conscience education" and affirming the educational philosophy of "Christianity", "liberalism" and "internationalism", Doshisha's integrated educational system adapts to the particular stage of development of each school within the Doshisha to ensure the steadfast deployment of comprehensive education embracing intellect, morality and physical strength. Our aim is to develop people who can live fulfilling lives by their conscience; that is to say people with an autonomous and independent spirit who are humanitarian and have a deep respect for the individual; people of integrity and strong morals, who can show creativity on the international stage.
Access Map
When the screen is clicked, it expands.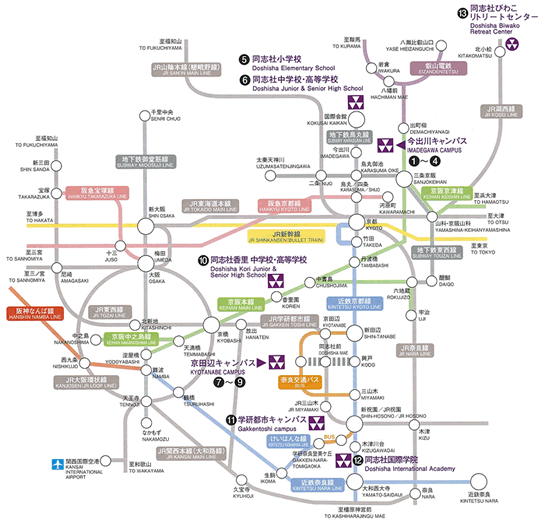 Access
The schools of the Doshisha are located in Kyoto and Osaka. Kyoto is a cultural city with 1200 years of history and tradition, while Osaka is one of the world's leading business cities. Kyoto is also a student city where a number of universities are gathered, and provides a comfortable atmosphere in which to live and study, enhanced by the city's seasonal and traditional delights.


From Kyoto Station, take the JR KOSEI LINE LOCAL or SPECIAL RAPID SERVICE to KITAKOMATSU. (LOCAL travel times; 45 minutes/SPECIAL RAPID SERVICE travel time; 35 minutes). Get off at KITAKOMATSU, and turn north 25 minutes on foot.